Safari Heat Mobile
You won't find a hotter game than the Safari Heat Mobile, an African themed Slots game that allows players the chance to experience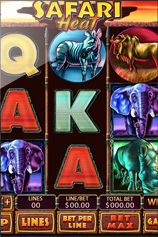 the action of the Serengeti –where the lions, antelopes, rhinos, zebras and elephants roam free.
The 5-reel, 15 payline Video Slot features the most realistic sound effects allowing you to feel as if you were in the center of it all.  And who knows?  Win enough cash and you'll actually be able to make the journey to the game reserves of the Dark Continent!
Some of the game's highlights include trees with generous Scatter multipliers, as well as lions which complete your Wild spin combination. These allow you to claim a big bonus and the chance to obtain the 15 spins as well as the 3 times multiplier on the wagers you make.
Safari Heat mobile slots can be found at most of the Playtech mobile and online Casinos.  There, you'll find that the Wild Lion is the Jackpot symbol and pays out a generous prize of 10,000 coins.  And interestingly, the game allows you to adjust the coin levels.  You may even play in your home currency for the chance at earning $2,500.  And if you don't know how the game is played, you can try it for free before using real money.
Mobile Safari Heat also allows you to customize the game by changing the size of the screen or the audio settings.  It's a game most players continue to rave about.