Wanted Dead or Alive
Would you like to chase after a few outlaws and get paid for it?  With Wanted Dead or Alive mobile , the exciting new Video Slots game, you can!  The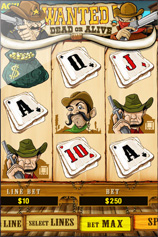 western themed game allows you to go after the bearded and masked outlaws as well as after the moustached bandit.  They're all wanted dead or alive as the name of the adventure indicates, and as you can see on the poster that's featured at the start of the game.
The animations and special sound effects are so realistic that you may find yourself thinking you've been transported to the days of the Wild West.  And what most players say is that nothing beats the thrill of hearing the gunshots when you achieve success with this 5-reel, 25 payline Slot.
In Wanted Dead or Alive mobile slot game, the dynamite sticks are the Wild symbols; and the bag of cash represents the Scatter.  If you score between 3 and 5 bags of cash you can claim the mini bonus.  And if you score the Revolver bonus symbol between the first and last reels, you'll be entering into the area where you'll be awarded six bullets for shooting the villains who are hiding in a number of places.  It's worth mentioning that the less ammunition you use, the bigger the reward you receive.
Lastly, note that if you do decide to team up with the sheriff to go after the villains, you can win a $10,000 Jackpot when you score 5 sticks of dynamite.