AlchemyBet Unveils The Mobile Slots Game Bar-X 7
Good news for casino gaming enthusiasts: AlchemyBet, the mobile games creator and renowned tablet casino games developer,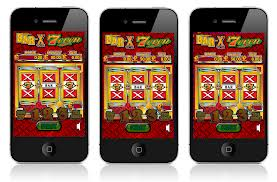 has joined forces with Electrocoin, a manufacturer of amusement machines.  Together they've announced the unveiling of the mobile version of one of the most favored fruit machines, Bar-X 7.
AlchemyBet announced that this new mobile version was created specifically for smartphone and tablets, and that it offers the exact three-reel, one pay-line notion along with sharp retro graphics and traditional OXO icons.
According to the Sheffield-based giant AlchemyBet, if you're a fruit machine enthusiast, it's likely you've already enjoyed the game for decades.  They also said that even if you're not an avid player, you probably found the popular three-reel OXO slots at many of the arcades and taverns around the country.  After all, they're certainly tough to miss.
AlchemyBet has also mentioned that the new mobile form of the slots game Bar-X 7 and its prizes will be accessible to gamers via the PocketFruitty site as of the end of the month.  It will showcase out-of-the ordinary sound effects, which will surely help players reminisce over the nineteen seventies.
A statement by AlchemyBet revealed that the celebrated mobile game is designed specifically for devices like smartphones and tablets, a factor that will allow mobile gaming aficionados to access this blockbuster fruit machine slots game at their fingertips.
John Sterdiges, creator of Bar-X, came up with the concept of the three-reel, one pay-line when he worked at an arcade in the latter part of the seventies.  He realized then that there was a gap in the amusement market, especially when it came to prizes machines.  Thus, he decided to convince Electrocoin, the slots machine specialist, to develop the game.  Soon thereafter, it became a huge smash among consumers and Bar-X slots has remained the most popular of the roster of games ever since.
.