Slotland Awarded Close To A Quarter Of A Million Dollars During Its Birthday Bash!
While many famous stars spend small fortunes on their kids' birthdays, Slotland Mobile casino beat them all by awarding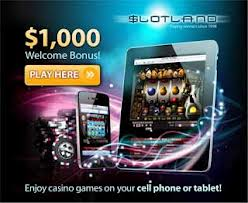 more than $175,000 in birthday prizes while celebrating its already popular online Slots site, now available to players for 14 years!  If that wasn't enough, it gave away close to $40,000 for playing the innovative Turbo GT Slot unveiled shortly before the start of the birthday bash.
As Slotland's Manager, Michael Hilary indicated, between the happy hour rewards, the birthday rebates, and the 70% matching bonus everything adds up to substantial winnings.  This is especially the case when you include the $14,000 birthday reward.  He also went on to comment that Slotland gave away between $20 and $2,500 to more than one hundred players who made deposits into their gaming accounts.  Hilary was also happy to say that the casino received birthday greetings from well-wishers, many of them who've been with the casino since its start.
One VIP gaming enthusiast, who's a cancer survivor, currently fighting Type II Diabetes mentioned that he's confined to staying at home.  And while he doesn't have much time to enjoy the Slots, he says that every time he returns to Slotland, it's like he never left.
Betsy R. posted a statement on the casino's Facebook page, indicating that over a decade ago, we had no idea how big the Internet would become.  In fact it's amazing to see that players from all around the globe, from Kuala Lampur to Texas took the time to wish Slotland a Happy Birthday on the casino's Facebook.
George H. couldn't believe the casino was giving away "free birthday" cash.
Now that the celebrations have concluded, the casino is still making its customers happy with generous giveaways.  Slotland has therefore prepared a bonus menu, which can be found at their promotion page.
And soon, Slotland Casino will introduce its latest Slots game: Ice Queen.  You'll get to enjoy it prior to Christmas.  But for now, don't forget that Slotland showcases 27 real money Slots games.  You'll probably like the most popular ones like Carnival, Greatest Hits, Double Luck, Turbo GT and Fruit Mania.  Or you may like the older ones such as Treasure Box and Golden 8.  Remember that the majority of Slotland Slots games feature a Progressive Jackpot that's now up to more than $135,000.