Three wishes Mobile Slot has been Release by Betsoft Gaming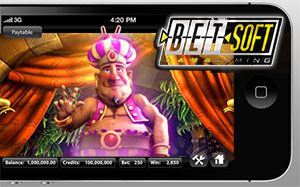 BetSoftGaming, the creator of the best 3D movielike slots games, has issued a statement indicating that its popular Slots3™ known as Three Wishes will now be available to players on the iOS mobile platforms.  Importantly, it will feature the same level of excitement as the already favored classic Slots3™.  Three Wishes will now join a group of six BetSoft casinos mobile games, and gaming enthusiasts can expect the release of many more in the months to come.
Head of Product Development for BetSoft, stated that by releasing this mobile form of the already beloved Three Wishes, they're continuing to make their way into the mobile gaming field. He went on to explain that Three Wishes is one of their "most popular games" and the company believes it will be the talk of the mobile gaming world.
BetSoft's Slots3™ is characterized by its wealth of visual effects, truly sharp 3D graphics and realistic movielike animation that complements the captivating background music, which provides an amazing experience for players.  Betsoft's EXPANDICON™ technology is the reason its games don't take long to load, and why their innovative presentation tends to wow even the most discerning players.